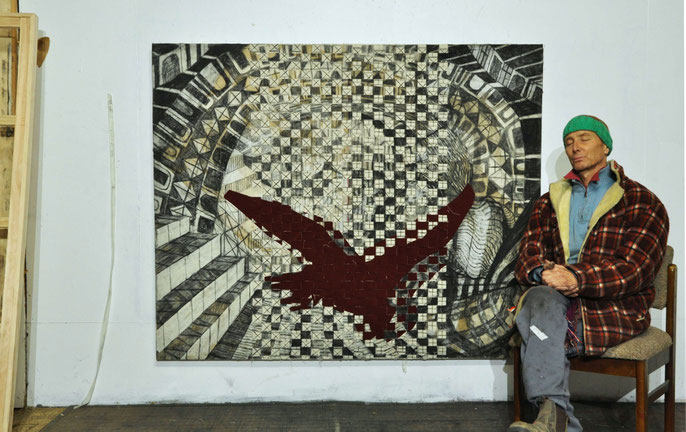 Born 1960 in Horsham in North West Victoria, Anthony Pelchen studied Economics at Monash University and a decade later painting at the Victorian College of the Arts. Common to all his work is an overriding interest in the fine lines and shifts between physical and psychological states and how a dominance of one inevitably points to the absence and potential of another. This involves work across media - painting, drawing, photography, video, sculpture and installation - all incorporating elements of repetition, austerity and subtle change within set structures.
Throughout the 1990's he lived in Melbourne and exhibited widely in artist-run, institutional and alternative spaces, including 200 Gertrude Street, the Project Space - RMIT, Temple Studios,talk Artists Initiative and St Stephen's Anglican Church. He has exhibited twice in Osaka and has been represented in various surveys of painting and drawing over the past twelve years. Residencies include 200 Gertrude Street (1995/6,1999), Bundanon Trust (2001,2003), Parks Victoria (2002), Nou-Machi, Japan (2005,2007) and Malaysia (Asialink, 2010). He has been a recipient of Arts Victoria grants for New Work, Presentation and International Cultural Exchange.
Since 1998 he has periodically collaborated with Melbourne-based performers Yumi Umiumare and Tony Yap in gallery, church, landscape and land environments in Australia, Japan and Denmark.
In 2008 he participated in Drought – Cross Cultural Collaborations, involving solo and collaborative work presented at ACMI and the NGV. In 2009, his installation Spent and video work Well were commissioned for the Murray Darling Palimpsest #7 in Mildura.
Between 2009-2013 he annually presented work at the Melaka Art & Performance Festival (MAP Fest) and during his 2010 Asialink residency formed a new Visual Arts program, initiating new venue relationships with the National University of Singapore and Heritage Trust of Malaysia. He curated the MAPFest visual arts program 2010-2012, bringing together 22 artsist from Australia, Singapore, Malaysia, the Netherlands and Afganistan.
His collaborative artist book with writer Andrew Lindsay, Difficult Majesty, was launched at the National Gallery of Victoria and shortlisted for the 2010 Mackay Artspace, Libris Awards. In 2011 he participated in the Lake Hindmarsh Project at 27 Gipps Street Gallery, Melbourne and Revisitations at the VAC, Latrobe University, Bendigo.
In 2012 he was shortlisted for the Rick Amor Drawing Prize and the Blake Prize. In 2013, Kuang Road Prayer - the body of work initiated in Malaysia in 2010 – was shown at the Horsham Regional Art Gallery and his Blake Prize entry - Code Maroon (stay or go), 2011 - toured to the Jewish Museum of Victoria.
In late 2013, Pelchen formed the Malaysia Australia Raft Project (MARP), initially bringing artist Soong Ro Ger from Malaysia to collaborate with 5 Australian artists - encompassing a raft build and journey then culminating in an installation and performances at the Natimuk Frinj Festival. MARP then presented in Melaka, Malaysia in 2014 and in central Melbourne, 2015 – forecourt, Australian Centre for Contemporary Art -  having grown to 11 collaborators, MARP was a part of the world-wide project Fluid States, and the Melbourne aspect, Performing Mobilities).
In August 2014, he participated in We Fall Into the Sea To Become an Island at Artist Run Initiative, Run Amok, Penang.  Early in 2015, Kuang Road Prayer was represented at the Latrobe University Visual Arts Centre, Bendigo.
In 2017 he was shortlisted for the Arthur Guy Memorial Painting Prize, Bendigo Art Gallery, and 2018 his engagement with Melaka, Malaysia continued with a residency at the Baboon House and later leading the 6-artist I see you/you see me: Melaka Swabs project.

His work is represented in collections including the National Gallery of Victoria, John McBride Collection -Sydney, James Mollison Collection – Melbourne, Australian Print Workshop, Bundanon Trust, Horsham Regional Art Gallery and Artbank.
In 2020, a Creative Victoria grant is supporting the fictional collaborative project, Kanazawa Jack - Signals From The Dark.
ANTHONY PELCHEN
Born Horsham, Victoria, 1960
Studies

 
1979-81
Bachelor of Economics, Monash University, Melbourne
1989-91
Bachelor of Fine Arts (Painting), Victorian College of the Arts, Melbourne
 

Solo Exhibitions/ Installations

 
2015
Kuang Road Prayer, Latrobe University Visual Arts Centre, Bendigo
2013
Kuang Road Prayer, Horsham Regional Art Gallery
2012
Code Maroon, Baboon House, Melaka, Malaysia
2011
Kuang Road Prayer, No. 8 Heeren Street Heritage Centre, Melaka, Malaysia
2010
Spent, Jubilee Hall Horsham/ Well, Horsham Regional Art Gallery
2009
The sum of the days (the value of the parts), floor installation, St Pauls church, Melaka, Malaysia
2005
Church and landscape, Natimuk Lutheran Church, Wimmera
2003
Looking forwards/walking backwards, Natimuk Lutheran Church, Wimmera
2003
Looking forwards/walking backwards, Gallery Chayamachi, Osaka
2001
3,492 poly bags and a ploughed path, Wimmera land installation
1999
14,171 days (God knows how many breaths), St Stephen's Anglican Church, Richmond
1999
Cover me in mud, bury me in wheat (throw me in the river), Horsham Regional Art Gallery
1999
vectis, talk artists initiative, Melbourne
1997
Looking with mouth open, singing with eyes closed, The Project Space, R.M.I.T., Melbourne
1997
Cover me in mud (bury me in wheat, throw me in the river), Temple Studios, Melbourne
1996
Slide installation; 200 Gertrude Street, Melbourne / Canberra School of Art
1996
Vectis, Studio 12 at 200 Gertrude Street, Melbourne
1995
I Lay Me Down, Studio 12 at 200 Gertrude Street, Melbourne
 

Selected Group Exhibitions / Installatons

 
2017
Printmaking in the Wimmera, Horsham Regional Art Gallery
2017
Arthur Guy Memorial Painting Prize, Bendigo Art Gallery
2016
Pushing the Sky, Horsham Regional Art Gallery
2014
We Fall Into the Sea to Become an Island, Run Amok Gallery, Penang
2013/12
Blake Prize, S.H. Ervin Gallery, Sydney / Jewish Museum of Victoria March-July 2013)
2012
Rick Amor Drawing Prize, Art Gallery of Ballarat
2012
The Kick Ass Painting Show, Fontanelle Gallery, Adelaide; curated by Brigid Noone.
2011
Revisitations, Latrobe University, Bendigo with Domenico de Clario, Elizabeth Presa and Tony Yap, curated by Lella Cariddi
2011
Lake Hindmarsh Project, 27 Gipps Street Gallery Melb., curated by Dr Sheridan Palmer
2010
Survival, Rimbun Dahan, Malaysi
2010
Libris Awards, Artspace, Mackay
2009
Spent floor installation/ Well video installation: Murray Darling Palimpsest #7, The Art Vault -Mildura / Ballarat Gold Mining Exchange Building
2009
Difficult Majesty, artist book with Andrew Lindsay; Ballarat University Post Office Galler
2009
Gulag Studios1994-2009, Counihan Gallery Melbourne, Curated by Dr Sheridan Palmer
2008
Drought – Creative Cross Cultural Collaborations, curated by Lella Cariddi; Fed. Square / ACMI / NGV
2006
Being at Bundanon, toured Victoria/NSW
2004
The Alice Prize, Araluen Centre, Alice Springs
2004
The Spirit of Football, National Gallery of Victoria
2004
National Works on Paper survey, Mornington Peninsular Regional Gallery
2002
5, installation/ perf'ce with Hisako Tsuzuku, Yumi Umiumare & Tony Yap, Mass Gallery, Melb
2001
Australian Paper Art Awards: Vic Arts Centre, Melb/ Festival Centre, Adelaide/ UTS Gallery,Syd
2000
National Works on Paper, Mornington Peninsular Regional Gallery
2000
Anthony Pelchen, Hisako Tsuzuku and Shukou Tsuchiya, Takarazuka Cultural Centre, Japan
1998
Finale 1998, Renard Wardell Gallery, Richmond
1998
National Works On Paper, Mornington Peninsula Regional Gallery
1997
The Alice Prize, Araluen Centre, Alice Springs
1997
New Acquisitions of Contemporary Australian Art, National Gallery of Victoria
1996
12th Biennial Prints Acquisitive Exhibition, Mornington Peninsula Regional Gallery
1995
1031 Kilograms, 200 Gertrude Street, Melbourne
1995
Keith and Elizabeth Murdoch Travelling Fellowship, Victorian College of the Arts

1994

John Doe, 200 Gertrude Street, Melbourne
 
Self Curated Projects

 

2018            I see you/you see me: Melaka Swabs, Malaysia

2015/14/13
Malaysia Australia Raft Project (MARP) – forecourt Austalia Centre for Contemporary Art, Melbourne 2015/ St Paul's Hill, Melaka 2014/ The Verge, Natimuk, Victoria 2013
2012/11/10
Formed and curated Visual Arts Program for the Melaka Art & Performance Festival, Malaysia>
 

Collaborations

 
2012
installation activation: Frank Van de Ven, Code Maroon, Baboon House, Melaka, Malaysia
2010
installation disruption: Tony Yap, Spent, Jubilee Hall, Horsham
2009
Installation disruption: Tony Yap, Merangkori, St Pauls church, Melaka (MAP 09)
2009
Installation disruption: Tony Yap, Merangkori, Ballarat Gold Mining Exchange
2008/9
Artists book with writer Andrew Lindsay, Difficult Majesty, NGV/Ballarat University Gallery
2009
Installation disruption: Tony Yap, Merangkori, Palimpsest #7, Mildura
2008
Installation/disruption: Tony Yap, Difficult Majesty, Punctum - Bendigo
2007
Installation, Troubled Nature, Natimuk Lutheran Church, with 222 children (Japan/Wimmera)
2005
Installation, 100 Years, Natimuk Lutheran Church (with community x 100)
2003
Installation for Inori-invisible with Yumi Umiumare, Copenhagen
2001
land installation, foreground Mt Arapiles, Wimmera:3,492 poly bags… (performance: Yumi Umiumare, Cape Kennedy, Jillian Pearce & Tony Yap)
2000
Installation for Inori-invisible with Yumi Umiumare, Dancehouse, Melbourne
2000
nstallation for Inori-invisible with Yumi Umiumare, Takarazuka City, Japan
1999
Installation for How could you even begin to understand (Version5), with Yumi Umiumare and Tony Yap, St Stephen's Anglican Church, Melbourne
 

Grants / Awards / Residencies

 

 

2020           Creative Victoria: Sustaining Creative Worker Initiative
2018
Baboon House residency, Melaka, Malaysia
2013/14
Arts Victoria Development grants
2010
Asialink residency, Malaysia
2009
Regional Arts Victoria – Arts Development (MAP 01, Melaka)
2008
Arts Victoria – Arts Development Grant – Presentation
2007
Regional Arts Victoria – Arts Development (Japan Residency)
2005
Regional Arts Victoria grants– Japan Residency/ New Work
2003
Bundanon Trust residency – Nowra, NSW
2003
Arts Victoria – Cultural Exchange Program Grant (Denmark)
2002
Parks Victoria residency - Warrandyte, Victoria
2001
Bundanon Trust residency - Nowra, NSW
2001
Green Room Award nomination – Design for Dance (Inori-in-visible)
2001
Arts Victoria - Regional Arts Development Grant
2001
Arts Victoria - Arts Development: New Work - Presentation
1999
Arts Victoria - Cultural Exchange Program Grant (Japan)
1999
Arts Victoria - Arts Development Program Gran
1999
200 Gertrude Street, Melbourne - Studio 18 live-in residency
1994-96
200 Gertrude Street, Melbourne - studio residency
19105
Victorian College of the Arts - Theodore Urbach Award for Painting
 

Collections

 

 
National Gallery of Victoria - Margaret Stewart Endowment, Bundanon Trust, Horsham Regional Art Gallery, John McBride Collection –Sydney, James Mollison Collection – Mebourne, Australian Print Workshop, Wimmera College of TAFE, Artbank, Australian Institute of Management, Melbourne Airport, Private- Australia, New Zealand, England, Japan
 

Publication / Interviews

 
2012
Jonathan Nichols - text: Anthony Pelchen, Kuang Road Prayer, Horsham Regional Art Gallery
2011
Lella Cariddi, catalogure essay, Revisitations project
2011
Dr Sheridan Palmer, catalogue essay, Lake Hindmarsh Project
2010

Portrait: Anthony Pelchen, with Shefah Szetu on 6th Nov 2010, BFM 89.9, The Business Station, Kuala Lumpur:

www.youtube.com/watch?v=oRfBftAXYlA

2010
Dr Sheridan Palmer, catalogue essay, Spent, Jubilee Hall, Horsham
2009
Dr Sheridan Palmer, Gulag Studios 1994-2009, catalogue essay
2009
Artists talk: Drought- Perceptions & Propositions, Ballarat University
2004
ABC Radio National interview with Julie Copeland, 12th Dec, The Maker: Anthony Pelchen
2001
essays: 3492 poly bags… www.abc.net.au/arts/fertile/essay_6.htm
2001
Leslie Harding, Re-thinking the Vital Illusion, Craft Victoria Quarterly – Spring Issue
2001
Leslie Harding & Carolyn Laffan, Marks of Intimacy, Australian Paper Art Awards
2009
Sandra Bridie, talk artists initiative, Melbourne
1999
Peter Timms, The Age, 16 June
1997
Peter Timms, Back to the Land, Herald Sun, 28 May
1997
Robert Nelson, The Age, 8 January
1995
Jenny Zimmer, The Age, 21 June
 

Other

 

2011-19       Teaching - adults and children of All-Abilities, Horsham

20012/11
Teaching – Ballarat University Art Dept, Horsham campus
2007/5
Conducted drawing/painting workshops, Nou Machi, Nigata pref., Japan
2012-2004
Conducted residential Butoh/drawing workshop with Yumi Umiumare, Wimmera River
1998/99
Guest tutor in drawing, RMIT Koori Education Unit
1998/1997
Lectures: Deakin University, RMIT University, Victorian College of the Arts
 

Travel

2018/2017/14/12/11/10/9/3Malaysia; 2014/7/5/3/0 Japan; 2003 Denmark, France; 1991 Indonesia; 1983 North America, Mexico, Southern Europe, Scotland