SMALL VAN ARTIST RESIDENCY FOR  NON-ARTISTS
This fictional, invitational caravan based residency is at Quantong on the Wimmera River, NW Victoria, Australia where Anthony Pelchen lives and works. Time and space is offered to individuals who don't identify as artists but play out curious, creative acts in their everyday.
From Sept 2020: Hiroshi 'Kanazawa Jack' Yoshida
Signals From the Dark
Hiroshi is from Kanazawa city in the Ishikawa Prefecture of Japan and for 37 years worked for the Kanazawa Road Control Department. His flair with the LED signal became quite legendary within the Department and the city community generally, so Hiroshi has become known as 'Kanazawa Jack'.
In 2014 while visiting Japan, Anthony witnessed Jack in action and the idea for the residency was seeded. A collaborative project is planned, bringing together Anthony's obsession with drawing at night and Jack's LED light 'choreographic' ways.
Over the months, Hiroshi will essentially 'play' with the potential of working together in this very different environment, particularly responding to the lunar cycles of Full and New Moon. He talks of an immersive time, "away from family and Japanese Culture, allowing my body and light wand to respond in whatever direction it is pulled - perhaps it will be some sort of melt down of the rigid, rule based road work signalling I did for so long, my years of Calligraphy study and how I will feel this new land...the wind, trees, river and the birds".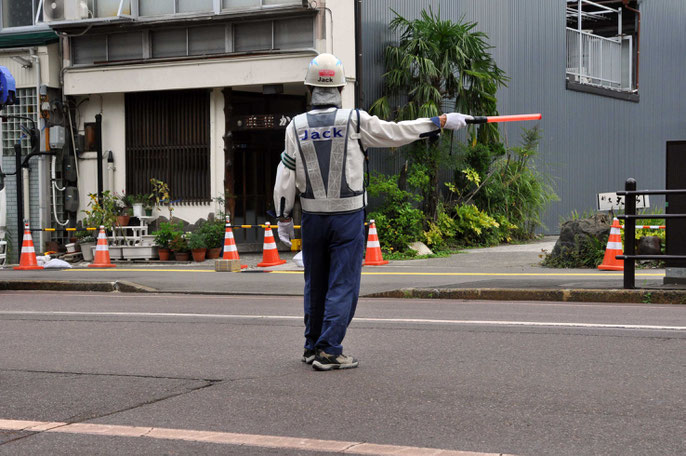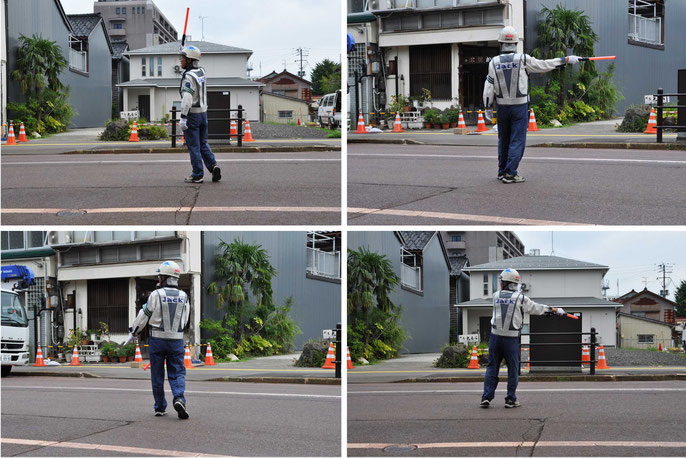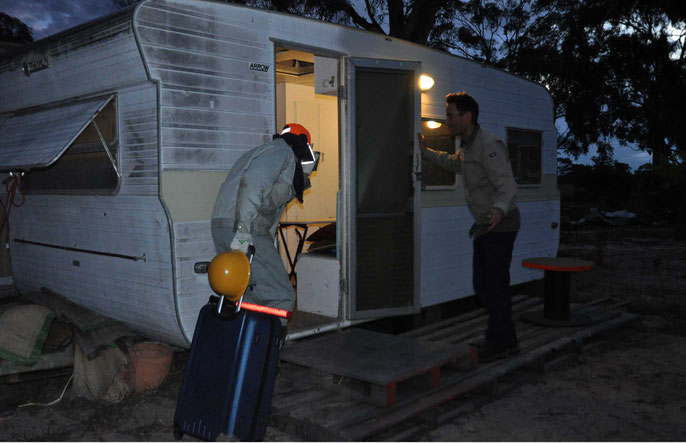 28 Sept 2020: I'm very happy that HIROSHI YOSHIDA has safely arrived from Japan and will be taking up the first SMALL VAN ARTIST RESIDENCY FOR NON-ARTISTS. We've been planning this for years and I'm looking forward to working with Jack over the months, supporting his LIGHT SIGNALS FROM THE DARK project. Jack is a former road worker from Kanazawa City, famously known for his flair with the LED wand and called KANAZAWA JACK by the locals.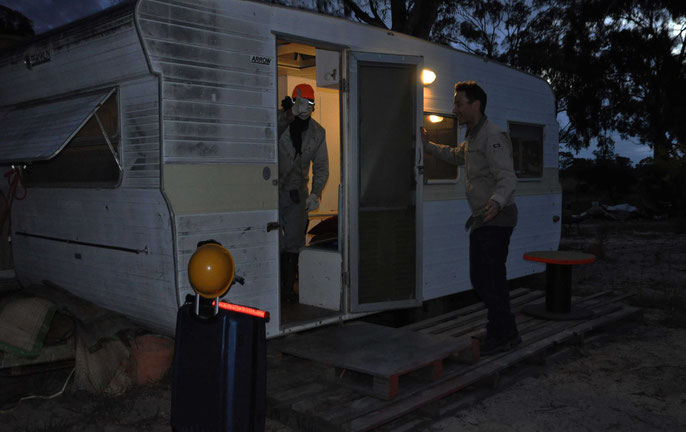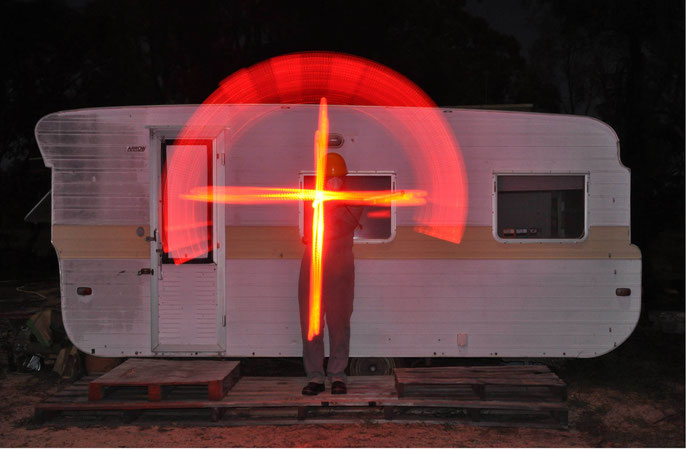 Oct 1, 2020: Great to see Hiroshi Yoshida out of the van last night - tired from the travel but keen to start moving. He's open to going to the river tonight for Full Moon but has asked I build him a small platform. He's feeling overwhelmed at being out of Japan and his city - yesterday kept saying "do inake"...apparently means 'too much countryside'. Karin's been coaching him to relax.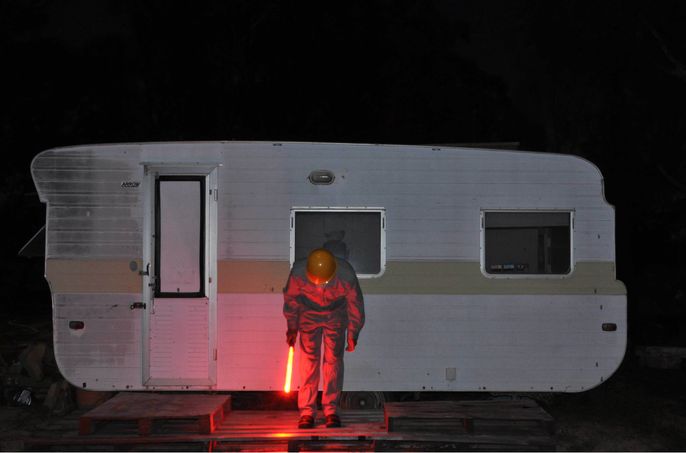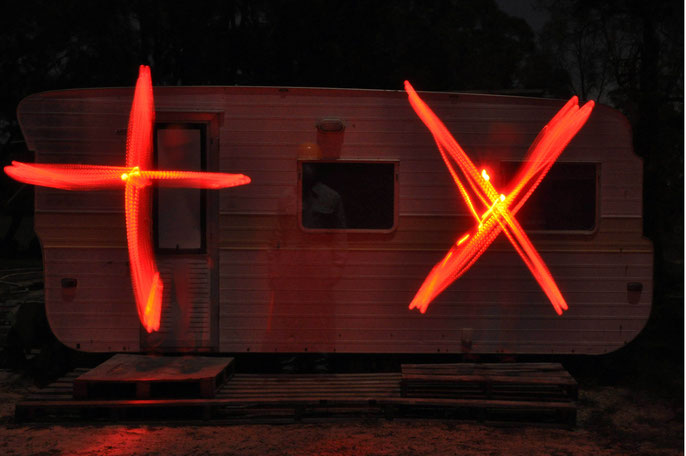 Oct 2, 2020: I'm glad to see Hiroshi out exercising at sunrise now. He likes the natural amphitheater in the sand dune nearby and seems to combine Japanese Butoh with Tai Chi. He said he's also responding to the early morning gargling of the Magpies, which is odd to watch. He's definitely loosening up though and last night had a big session at the Van. Looking forward to what happens at the river tonight for Full Moon.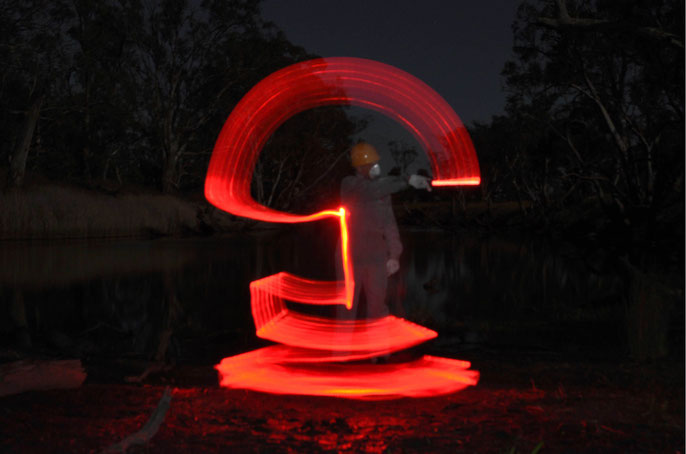 Oct 3, 2020: Had a big night with Kanazawa Jack. We drove to the river with the platform he wanted and I photographed him into the night. By 11.30pm the Full Moon was strong and Hiroshi was on fire. We found a hat full of mushrooms on the way back and he's keen to try them. Could be real interesting what state he's in tonight for another go.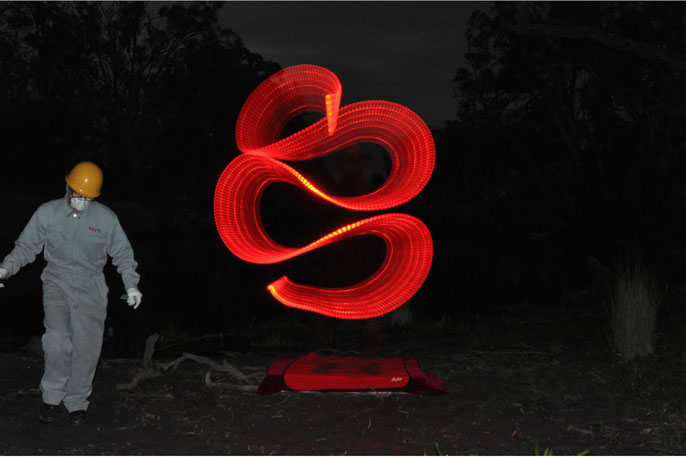 Oct 4, 2020: Coming down from the late Full Moon river performances, Jack and I ate the mushrooms we found. Then friend Rod called and told us of his encounter with a 2m Brown Snake at the Nurrabiel Cemetery. Wonderful and curious then to see Jack on fire again last night with more signals from the river. Previously he stayed on the platform but this time kind of ran and danced around the signals.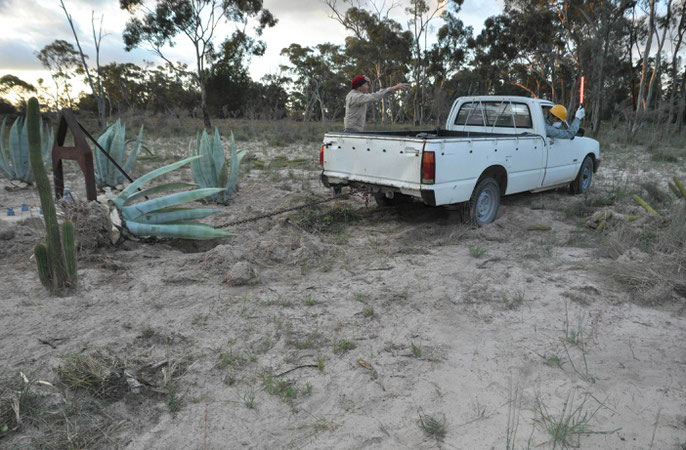 Oct 17, 2020: Jack suggested he help me move the big Agave for the New Moon tonight. I hooked on the chain and he drove the ute. As my father would have said, he "bogged it to the ass". Japanese pride is very particular, so there was a desperate frenzy to right things...to perform his wacky, honoring process from his days with the Kanazawa City Council Roads Department – 'Kowareta Kuruma', or 'Broken Car' ritual. This went on for hours into the dark. This morning I dug out the ute...Jack is still in bed.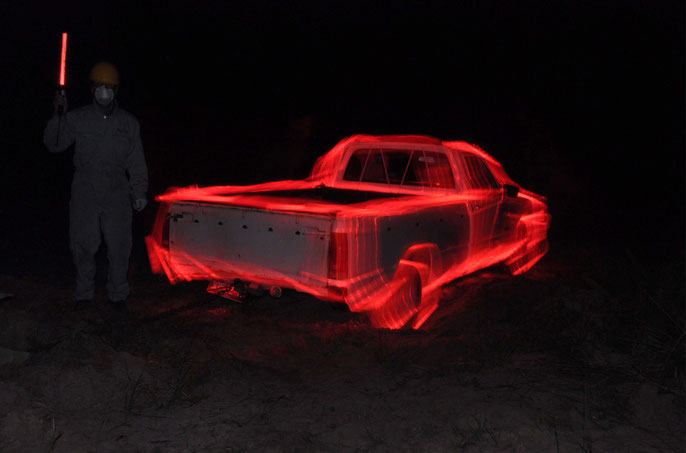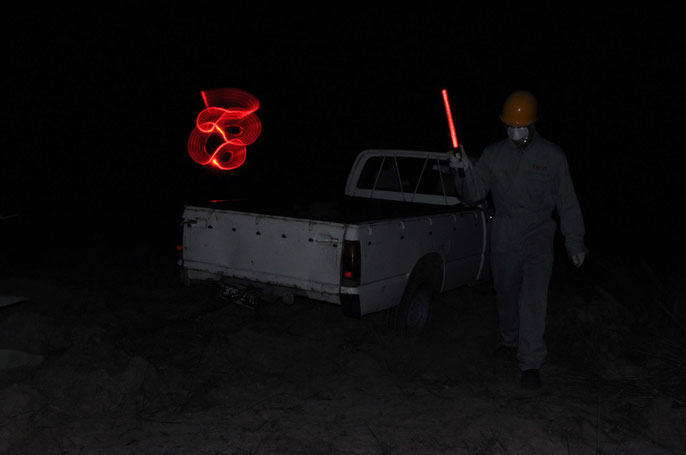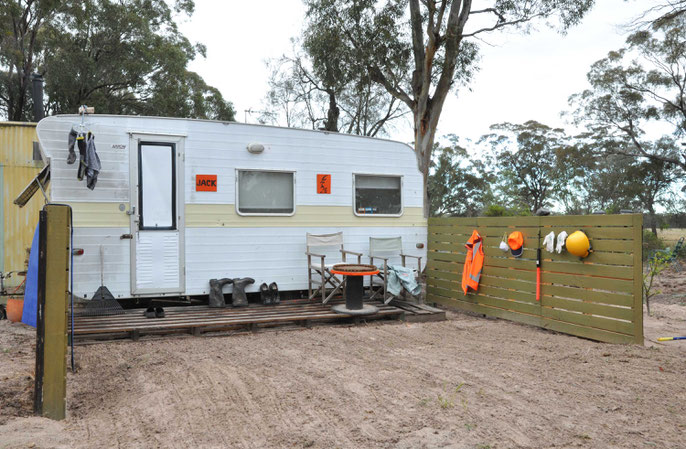 Oct 30, 2020: Jack's keen to perform at another spot on the river tonight for Full Moon but has been spooked by the snake tracks in the sand outside his caravan. He's still in bed but I see he's raked last night, to detect any snake activity. For days he's again been saying "do inake"…'too much countryside' and had me install a tarp-based replica of his favorite Kanazawa city T-intersection (corner of Ohori and Honda dori), with an elevated platform. Said he'll feel more safe and comfortable.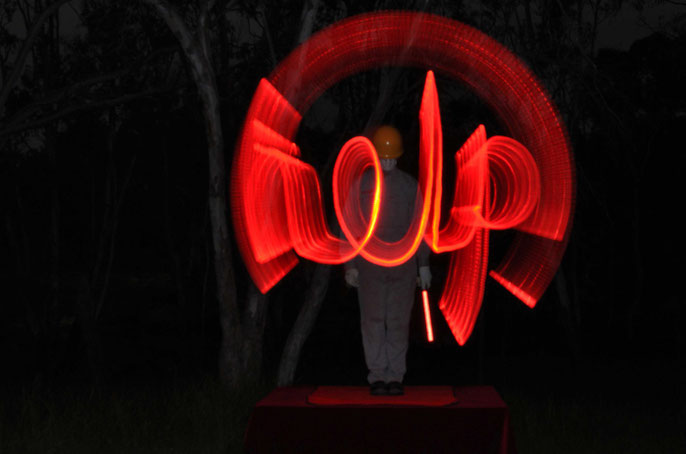 Oct 30, 2020: Jack did an hour of LWR's (Light Wand Routines) across the makeshift, tarp-based T-Intersection then stepped up on the maroon velvet platform, just as an owl started up. He was still and silent for a few minutes then floored me with a very decisive, left-handed, text based piece. On the way back in the ute, Jack explained he saw a small Red Gum that had been hacked with an axe. He quietly repeated "ki ga kirarete kanashii ! "…I think it means 'the tree was cut and sad'.
Oct 30, 2020: Jack was disturbed on finding a tree hacked with an axe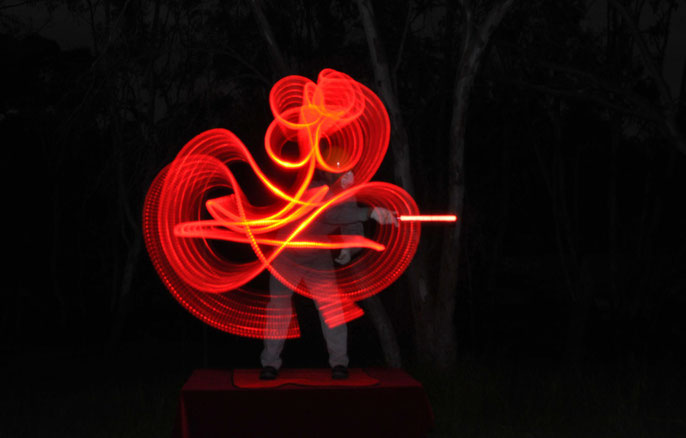 Oct 31, 2020: I was wondering if Jack would do more text based, left handed confessional signs last night and was happy when he broke out with this quite lyrical, right-handed free-form piece. We'd repaired the partly axed Red Gum and he was clearly more buoyant than on Friday night. He said although he's been a city man, he feels despair about the often disregard for nature…but is hopeful that the new generation will save the world (I didn't tell him that it was two young boys who hacked into the tree with an axe).
Oct 31, 2020: Jack signals the new generation.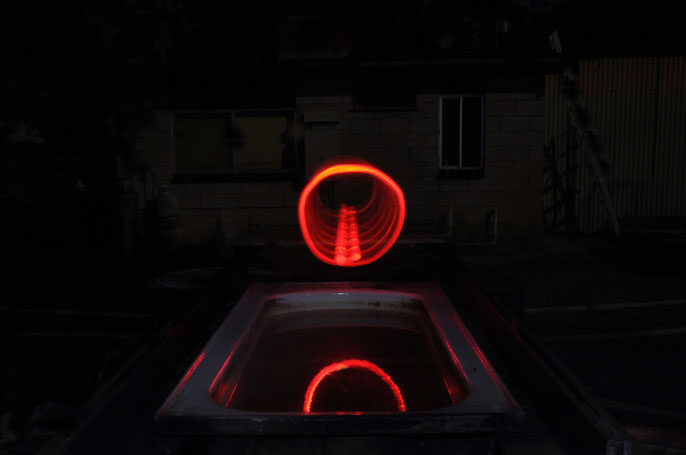 Nov 7, 2020: Jack knocked on my door last night and said he wanted to "call the election!". I was confused but then realized what he was talking about. Because of Japan/America relations, he's very happy that Donald Trump will go. Curiously, he wanted to call it in the outside hot bath, so I fired it up and left him to it. In Jack's usual methodical, almost ritualistic way he performed what he calls the 'barrel'. He explained how he loves Marty Robbin's Gun Fighting Ballads album and it's been on his mind…and how Donald is staring down the barrel of a gun. Jack never ceases to amaze me.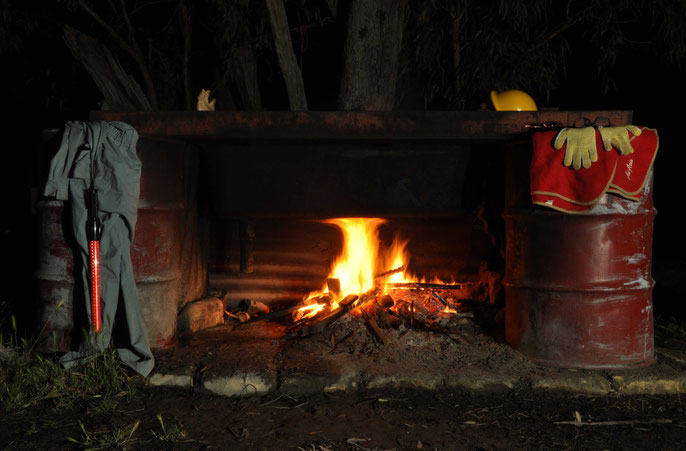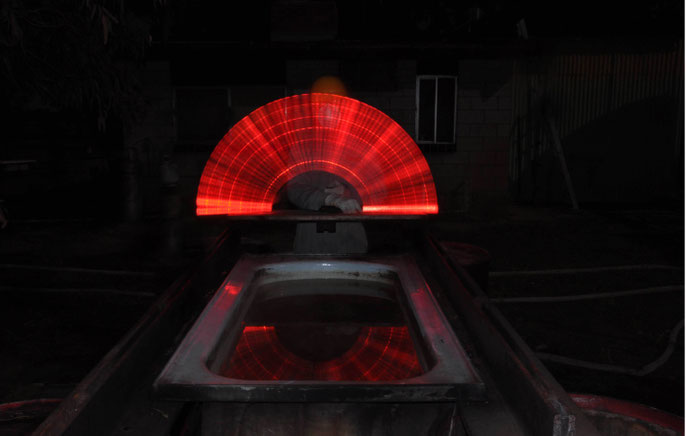 Nov 15, 2020: Jack was pretty flat yesterday morning and spoke of his disappointment in not being able to take part in the Tokyo Olympics Opening Ceremony. With the temperature hitting 34° C, he spent the afternoon doing Tai Chi at the river and took up my suggestion to perform his 'Full Fan' here instead…for the New Moon. So glad he went with the idea and damn special to see him pull off a near perfect one before his bath. He's now keen to do an Olympic Lament series.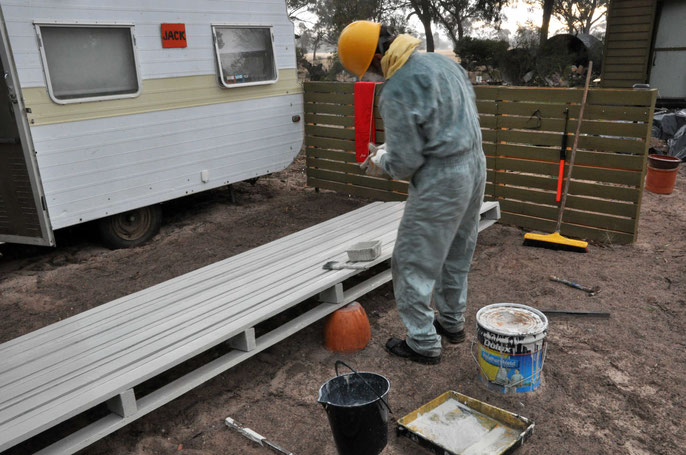 Sept 27, 2020: Jack's been keen to make a Performance Art Video (PAV) and discussed doing something more serious, considered and controversial. I explained there was no need…that he just do a rudimentary, domestic act and we'd make Art by slowing it down. Settling on him pretending to convert a pallet into a decking, I waited 2 hrs until he'd almost finished and then took some footage ... just as a storm rolled over. He's fired up by his first PAV and the decking looks good outside the Van (thanks Karin for assisting Jack with iMovie).
Dec 1, 2020: Jack decided to let Performance Art Video (PAV) go and get back to a photographic capture of the moment. He's been fascinated by the loud, almost mournful squawk of the local Yellow Tailed Black Cockatoos, which cruise past his Caravan real low and often just before rain. I was hoping for some sort of visual interpretation for the Full Moon last night but he performed what he declared was 'The Rooster' instead and then had his bath. I never quite know with Jack.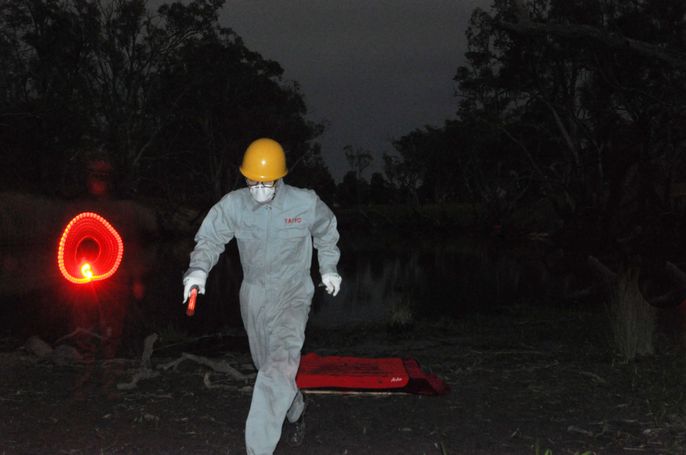 16/12/2020: I've seen little of Jack over the last week, so was pleased he was back at the river platform last night for the New Moon. He drew small forms he calls 'Puppies' and chased them around. It was strange to watch but I'm glad he's more buoyant. Not expecting him to surface from the Van until late.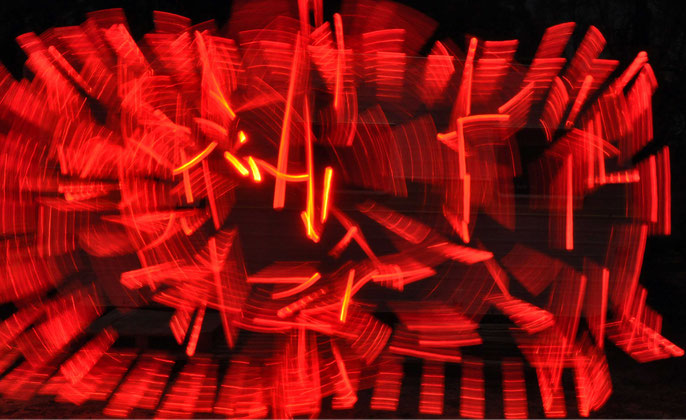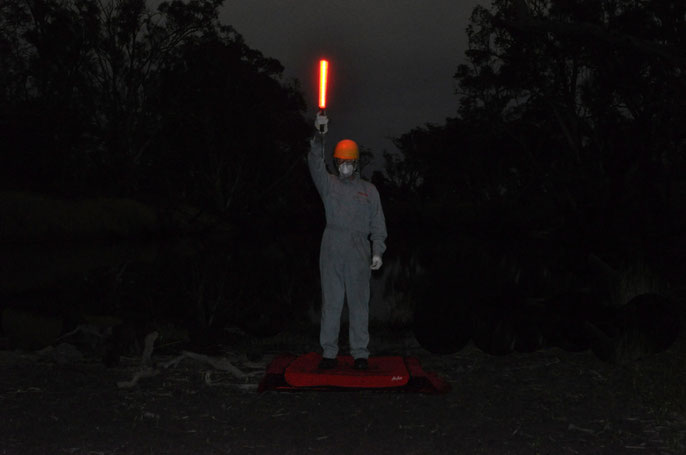 1 Januaray, 2021:  Jack and the old Rodeo ute returned from Melbourne late yesterday pretty freaked out. He had 'traffic management' issues in Richmond then ran out of the NGV Triennial …'Disneyland tsunami' he said. Stuck then on the West Gate Bridge for an hour and missing the Ballarat turnoff, he said 'strong mental health issues were coming'. The ute went straight to the river and I saw a lot of red flashing light. Jack's in bed this morning but left a note "OWATTA!" (finished). Hope he's up for a new year's coffee later (a big year).