MALAYSIA AUSTRALIA RAFT PROJECT – MARP
Forecourt Australian Centre for Contemporary Art
Grant Street, Southbank Melbourne
Sat Oct 10th, 2015: 7am – 7pm, main performance 1pm (30 mins)
Anthony Pelchen, Tony Yap, Trevor Flinn, Kavisha Mazzella, Robert Millar, Frank Tagliabue, Alison 
Eggleton, Pete Grey, Karin Matsuda – Australia; Soong Ro Ger (Roger), Andy Lim Kah Meng – Malaysia; Monica Benova – 
Slovakia; 200 sheep (and all others who climbed on board to assist: Jacqueline Schulz,  Matthew Arnold, Matthew Vaughan, William Heathcote, Andrew Lindsay and Mikoto Araki)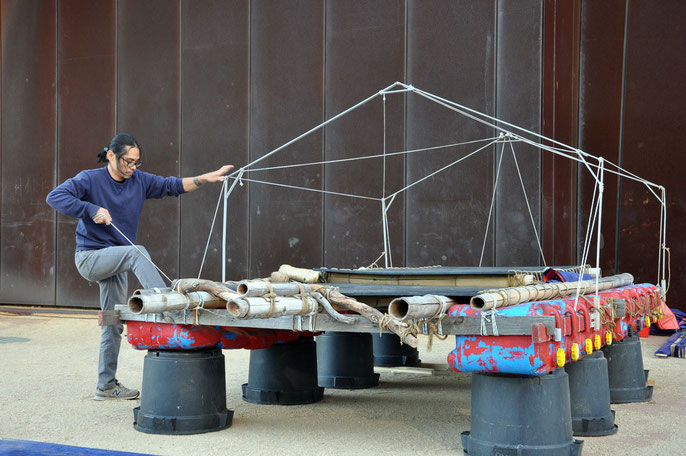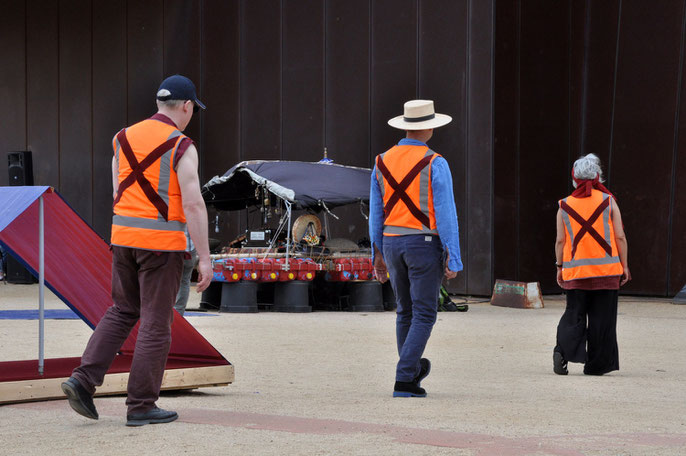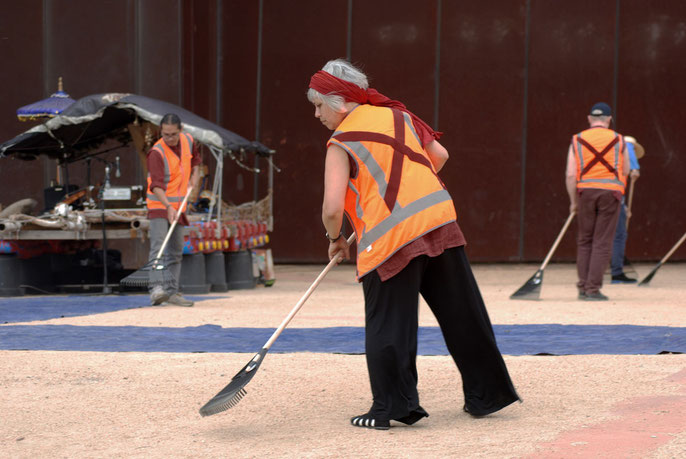 Basics
MARP is an installation and performance framework, initiated in 2013 by Anthony Pelchen. This was in homage to the 2012 Malaysian raft journey by Soong Ro Ger (Roger) and Andy Lim Kah Meng, who constructed a raft and travelled for ten days through the lakes system of the Royal Belum State Park in Perak (Malaysia). During this unauthorized journey they witnessed the deforestation of some of the most pristine areas of jungle. The raft has now been fully hijacked; marooned for its broader symbolic potential and as a platform to enact shared vulnerability and the possibilities of generosity. MARP was originally conceived as an artistic vehicle to bring some fine foreign others in to Australia, rather than ship them out; a simple act of generosity on a micro level. MARP is also a work to bring others on board.
The sense of inequality of safety and privilege in movement is a call to action for the artists – a cry for orientation, a desperate call to the Gods. The performance work that plays out on the stationary, marooned raft is 'anchored' more in the raft's symbolic potential –an improvised vessel for transporting, with a destination in mind, and the daunting but sometimes exciting potential of going off course, to arrive somewhere unintended, to even disappear in the enactment.
MARP raft will be sited on the almost littoral dry zone between VCA and ACCA. Blue tarpaulins, maroon tents, an open kitchen. Think smell, smoke and incidental engagement. Small orange Origami boats passed from hand to hand. Around midday a memory and medley of sound and song emerges through the colour: Code Maroon (All God's Beggars) begins. The relative emptiness of the site's surrounds is open to visitation, to whoever may interact, perform or simply occupy.
(MARP was a part of Performing Mobilities, the Australian program of Fluid States – a globally distributed performance research project taking place in a sequence of 15 different world locations over 2015. Companion curator was Dr James Oliver).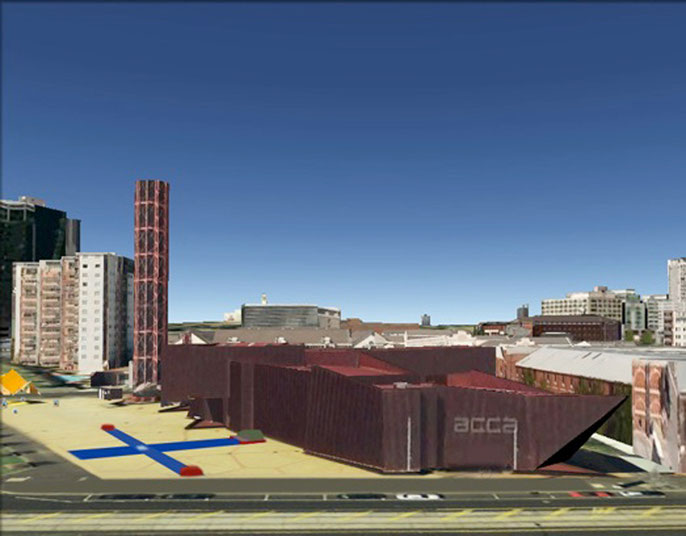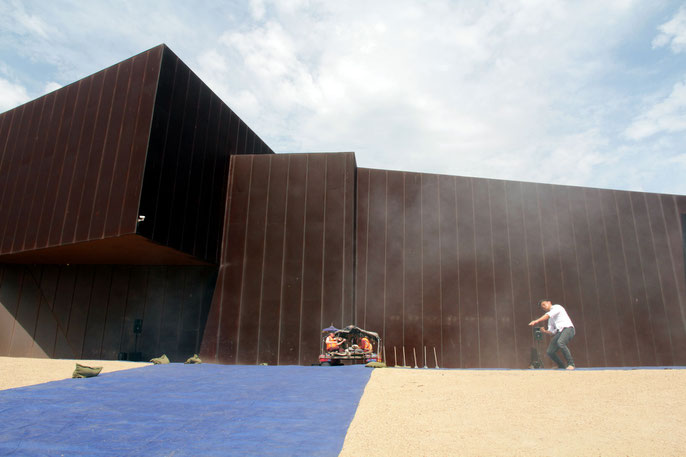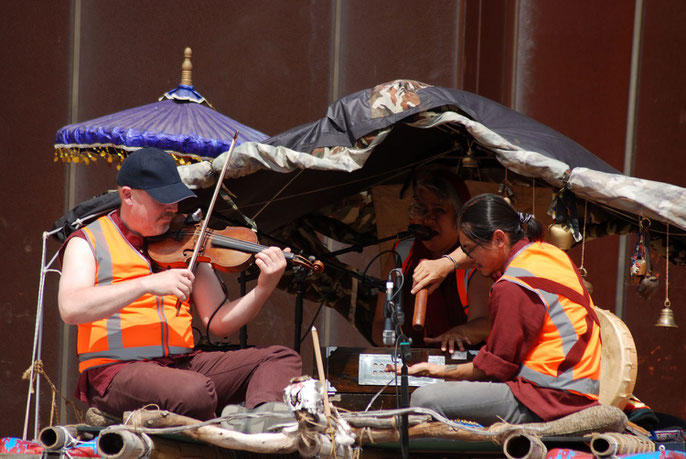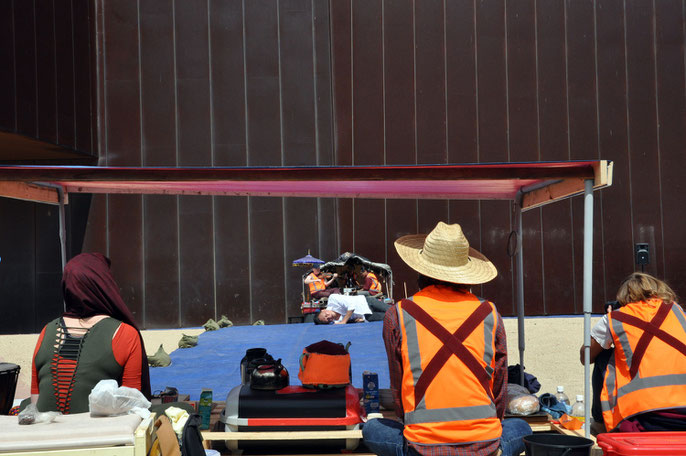 Shifting States (of awareness): Malaysia Australia Raft Project
Respondent > Alison Eggleton
In a clearing among tall eucalyptus and cypress trees, a collection of tents and structures stand. As people gather, a small village forms. I hear 'All God's Beggars', and simultaneously witness the site, vibrating with meditative stillness, anxiety and resignation of the body.  It is in this space – where order and disorder, distance and proximity share the same continuum – that l notice the central structure of a raft. It sits marooned on the grass, as though a shrine to a monumental journey. I wonder where this vessel has come from, where it had travelled. Embedded with a kind of solidarity and exciting potential, it is charged with impermanence, vulnerability, and an otherworldly uncertainty of going off course. Built from recycled cooking-oil containers, bamboo poles and canvas, I am reminded of the literary classic The Adventures of Huckleberry Finn, in which we are drawn into the world of two boys seeking freedom, and finding a place where generosity and kindness come to fruition.
Later, I would meet artist Soong Ro Ger (Roger) and hear of his raft journey in 2012 with fellow artist Andy Lim Kah Meng, in which they constructed a raft and travelled for ten days on an unauthorised journey through the lakes system of the Royal Belum State Park in Perak, Malaysia.
With few tenets, Anthony Pelchen has tangentially brought the people that surround him on board the Malaysia Australia Raft Project (MARP). Witnessed as audience among the backdrop of Nati Frinj Festival in my home town of Natimuk in 2013, and as participant at MAPFest in the old city of Melaka, Malaysia in 2014, and again on the forecourt of Australian Centre of Art (ACCA) for Performing Mobilities in Melbourne in 2015, Pelchen has also brought me along. And I have come to the realisation that through a metaphysical accumulation of experience, MARP has become a vessel of souls. In exchanging energy, temporal and generous in nature, each act is a series of ethereal moments.
Immersed in the sounds of the old city from MARP's St Paul's hill site, Australian sheep calls rang out. Recorded at night in Western Victoria, their calls in the dark, perhaps in need of orientation, paradoxically call to the heavens. In accenting their dislocation, Pelchen's recording awakened a sense of familiarity and longing in me for home (Australia). He describes MARP 'as a platform to enact shared vulnerability and the possibilities of generosity'. Against this ethereal backdrop, MARP evoked a sense of sadness and purpose, one that's anchored in hope and justice for people moving from one country to another.  
Pelchen's work offers us an interminable number of responses that deserve to inhabit our minds for some time. It is a site of unexpected associations. And in the forecourt of the ACCA, against the monolithic structure of its rusted steel walls, he escalated the potential of MARP further. In the shadow of its authority, the remade raft with a crew of international artists occupied the relative emptiness of the site for a single day. In these surrounds, Pelchen characteristically orientates himself within a world of ordered and disordered states, open to whoever may interact. Excited by the potential, once again I found myself arriving somewhere unexpected.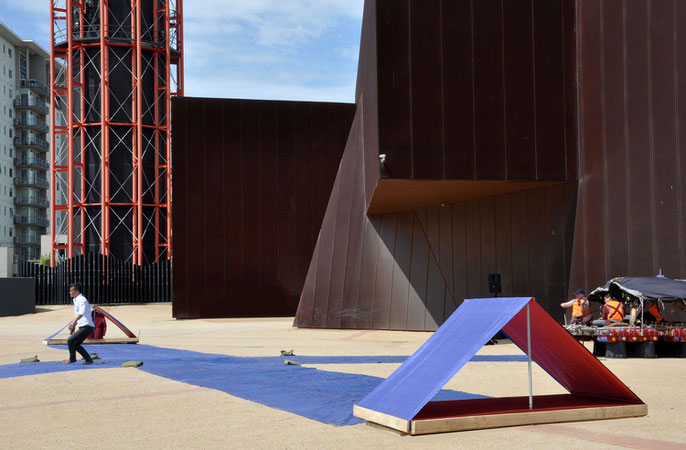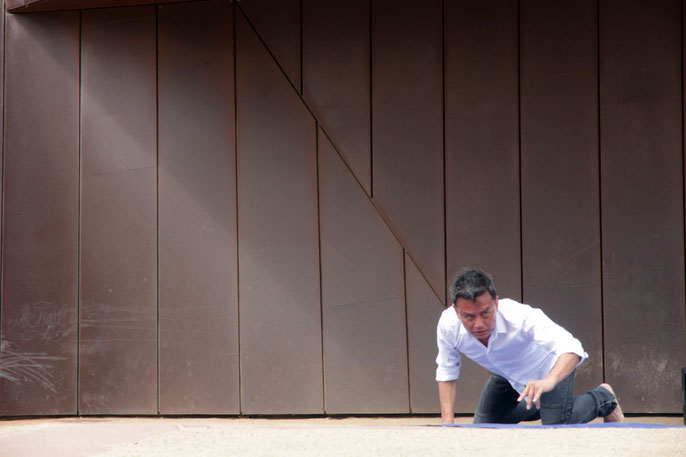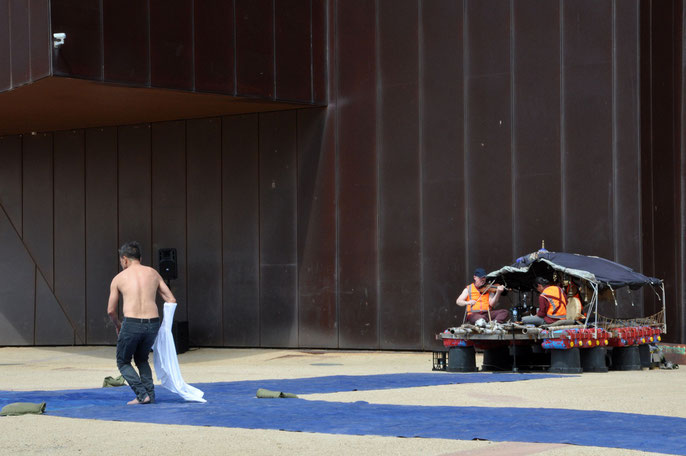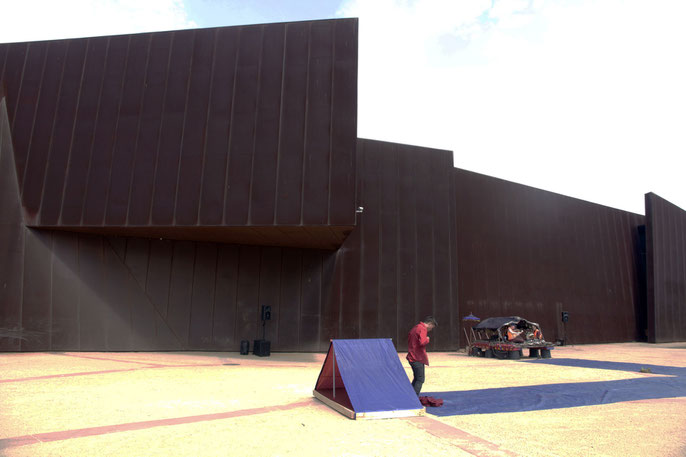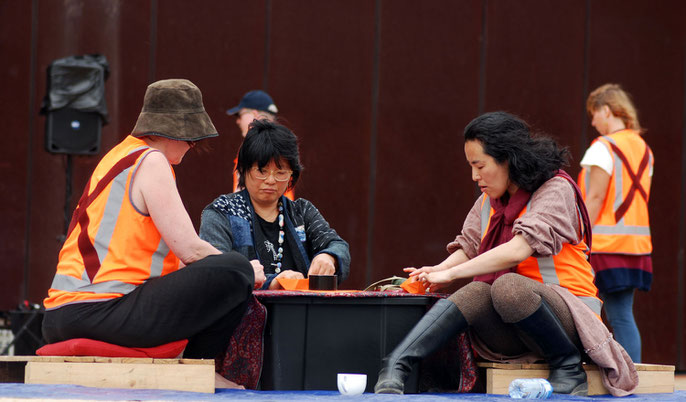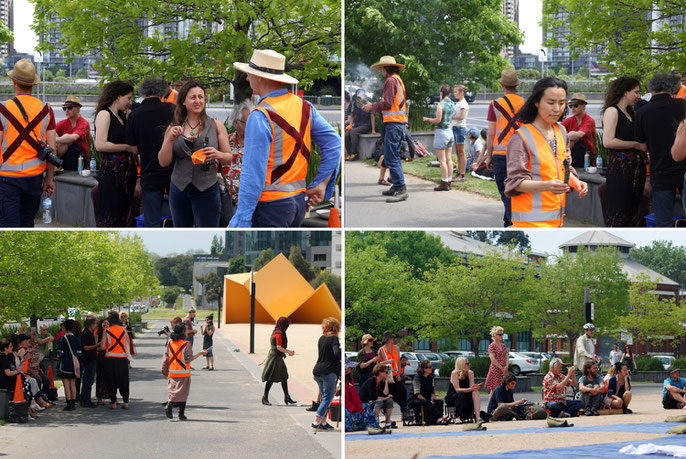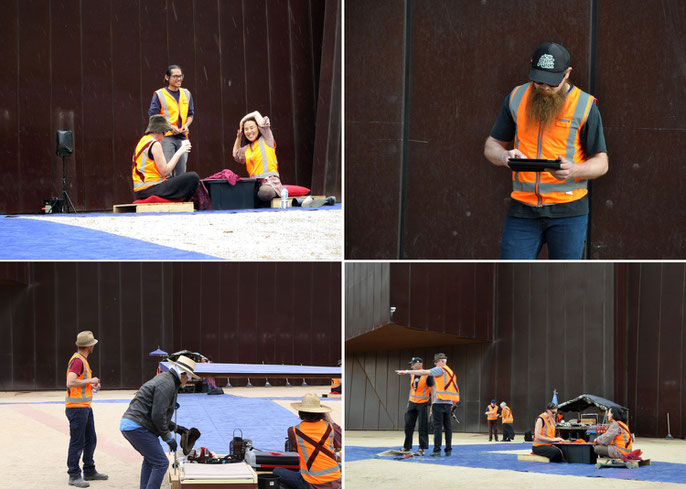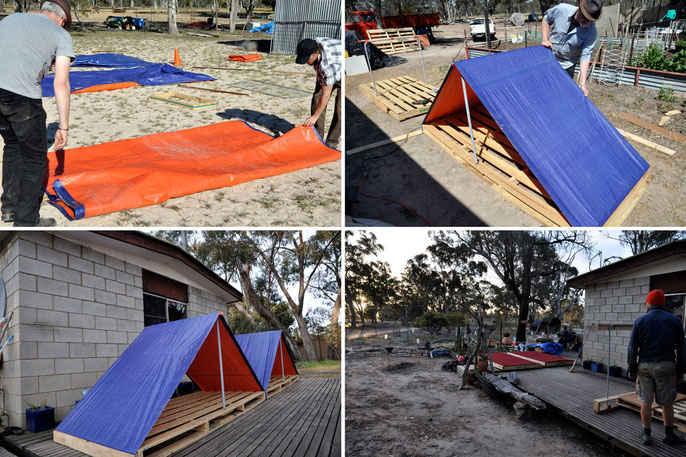 Background- artists
MARP is a growing collective of associates from Australia and abroad - artists, performers, musicians and others whose creative acts go under the radar. Formed in 2013 by Anthony Pelchen, MARP appeared later that year at the Natimuk Frinj festival, NW Victoria and at the Melaka Art & Performance festival, Malaysia, 2014.
Anthony Pelchen is a cross-media visual artist and since the late 1990's has periodically collaborated with Melbourne based dancer/choreographer Tony Yap. In 2009 Tony Yap formed the annual Melaka Art & Performance Festival (MAPFest), inviting Anthony Pelchen to present installation work and curate a visual arts program. New venue relationships were formed with a number of key institutions and alternative venues, including Soong Ro Ger's Baboon House Café in central Melaka.
Soong Ro Ger (Roger) and Andy Lim Kah Meng operate the Baboon House. With backgrounds in Engineering and Naval Navigation, they regularly disappear up rivers and into rainforests. Slovakian photographer, Monica Benova, was based in Melaka and collaborated with Roger for various photo based installation projects and the formation of IN-Fest, showcasing local artists.
Kavisha Mazzella is an accomplished Australian singer/songwriter, awarded the Order of Australia for her considerable work with senior Italian women and social justice causes. In 2002 she co-wrote with writer Arnold Zable, All God's Beggars - an anthem for Refugees and central to MARP.
Dunkeld based Trevor Flinn has a practice blurring making and performing. In 2012-14 he was commissioned for the inaugural series of regional 'TWIG' projects.
A long time collaborator with Kavisha Mazzella and Anthony Pelchen, Andrew Lindsay is an accomplished writer and Lecoq trained performer based in Sydney.
All other associates live and work in the vicinity of Pelchen's base on the Wimmera River, near Natimuk, NW Victoria: Alison Eggleton has a textile based sculptural practice and is curator at the Horsham Regional Art Gallery; Robert Millar is a musician, sound artist and director of Rat Hole Records; Frank Tagliabue is a sculptor of the miniscule; Karin Matsuda is a former Tokyo based Indian Astrology Life Coach; Pete Grey a man of understated but accomplished improvised making and adventure.